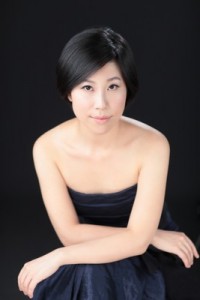 Jenny will perform a concert entitled Acqua Alta (High Water), at New York City's Spectrum on Tuesday, May 7, 2013 at 8pm. Spectrum is located at 121 Ludlow St., New York City. Admission is $15 general / $10 students & seniors.
Acqua Alta (High Water) will be the anchor of a month-long programming focus on global warming at Spectrum, with sound and video installations based on data curated by Ian Fenty, whose doctoral dissertation at MIT addressed global warming and its effects on our oceans.
"I wanted to create a program that is multifaceted like the surface of a sparkling stream in Venice," says pianist Chai. "The music on this program features the piano's range of expression, from exquisite nuance to bold gesture."
John Cage's athletic Water Walk is the centerpiece of the program. Written in 1959, John Cage's Water Walk is scored for a number of objects, including bathtub, rubber duck, prepared piano and five radios. It was originally premiered on the Italian TV show Lascia O Raddoppia. Ninnananna from Marco Stroppa's Miniature Estrose—a lullaby in which its out of worldly tremors creates a gentle watery shimmer and explores the two relations between two states of mind, with initiated knowledge one might trace hidden lullabies by Brahms, Schubert, Stravinsky and an Italian lullaby Stroppa's mother used to sing to him. Scarlatti and Gibbons provides the sensation of traveling back in time in Italy, while Debussy and Ravel adds their watery imagery. Three world premieres by Nils Vigeland, Milica Paranosic and Michael Vincent Waller reflect contemporary composers' take on global warming.
To complete the experience, the stage and the hall are transformed with projections of Italian Renaissance paintings, which stunningly portray the luminous beauty of Italy.
Acqua Alta (High Water) Concert Program:
Milica Paranosic Bubble World Premiere
Kurtag Hommage à Scarlatti
Scarlatti, Sonatas
Gibbons, Allemande (1613)
Marco Stroppa, Ninnananna from Miniature Estrose
Liszt, La lugubre gondola
Debussy, Prelude La cathédrale engloutie
Ravel, Une Barque Sur L'océan  from Miroirs
Nils Vigeland, I Turisti World Premiere
Michael Vincent Waller Acqua Santa World Premiere
John Cage, Water Walk
Related show